IRON BRIDGE OFFICE CAMPUS NEWS
MLK Jr. Way Roundabout at Trent Complete
August, 2018
MLK Jr. Way Roundabout at Trent
June, 2014
Martin Luther King Jr. Way Phase I is complete. Formerly known as the Riverside Extension. Once completed, vehicular traffic on Spokane Falls Boulevard will be moved away from Riverpoint campus while creating an inviting setting within the University District for commuters. Summer 2009, the Spokane City Council approved Martin Luther King Jr. Way as the name for the Riverside Avenue extension.
The new boulevard also includes bike lanes, street trees, wide sidewalks, and an elevated median. Additionally, the project will extend:
Riverside Avenue/Martin Luther King Jr. Way from Division Street to Sherman Avenue;
Pine Street from Main to Riverside avenues;
Spokane Falls Boulevard from Division Street to Sherman Avenue; and
Sherman Avenue from Martin Luther King Jr. Way to Riverpoint Boulevard.
This is just Phase I of our plans for the corridor. Phase II, will travel along the Spokane River under the Hamilton Street Bridge to Trent Avenue. The final phase, currently unfunded, will allow access along Erie Street under the Burlington Northern Sante Fe railroad tracks. Phase 2 and 3 will begin right of way purchase in 2011.
Iron Bridge Opening Ceremony
October, 2012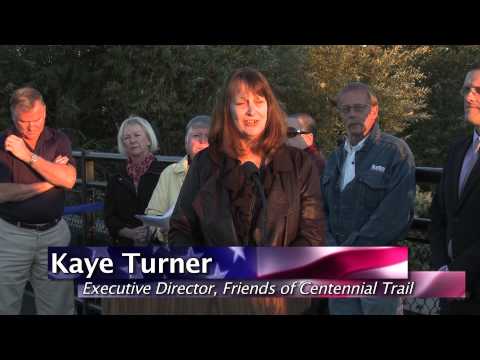 The Iron Bridge completion ceremony was a great event, complete with the Flying Irish running through the ribbon. The historic Iron Bridge has been renovated as a new pedestrian and bicycle bridge that links into the Centennial Trail and other trails. The ceremony featured Mayor David Condon, Friends of the Centennial Trail, Flying Irish Running Group, Council Members Fagan and Snyder, and the Logan and Chief Garry Park neighborhoods.
Click image to PLAY VIDEO